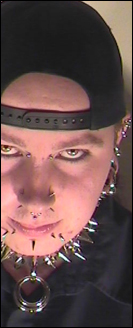 Rob Hill originated from Calgary, Alberta Canada and recently moved to Sioux City, Iowa in December 2004. With over 9 years of professional experience in the body modification industry, Rob has made his mark. He started off with body jewelry manufacturing in the mid 90's, for a period of 4 years Rob learned the ins and outs of high quality body jewelry. "Manufacturing the jewelry from scratch really helped me understand the application to the human body," says Rob.
Rob then started his career in body piercing, researching what he could on his own and learning different techniques from piercers all over North America. Rob then landed an apprenticship and started working in a local shop and began carving out his piercing skills. Rob is a perpetual student. There is a lot going on in the body modification world all the time, and he says he wants to be able to offer his clients the benefits. Not only does he educate himself in areas of shop health practices and aftercare, but also new piercing materials and techniques. This 'always learning' mantra brought him to Fakir Musafar, one of the grand-daddies of body modification. At his San Francisco studio, Rob completed both the body piercing intensive and the body branding intensive.
Rob then single handedly opened his own studio in Calgary called Steel Sensations - Professional Body Piercing and Branding. And in a short period of 2 years Steel Sensations was voted 3rd best piercing studio by FFD Magazine of 2004 in Calgary, which is a city with over one million people and supporting twenty piercing studios. Here in Sioux City Rob offers precision free hand body piercing, cuttings, pocketing, scalpeling and three different types of branding: fire direct, multi-strike, and electro-cautery. And now with 7 years of professional piercing experience, and 3 years of professional branding experience, Robs piercing and branding portfolio is nothing but extensive. In addition to providing all of the above service.